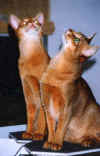 Gr Pr Assheton Cavaradossi (23a) MN (left)
and Gr Pr Assheton Aida (23) FN (right)
Owner/Breeder Vicky Hakin Smith



Pr. Assheton Amir (23) MN
Owner Mark Hallam
Breeder Vicky Hakin Smith
All these four cats were from Queen Mum Libella Lydia, who produced three Grand Premiers from her first three litters.

Gr Pr Assheton Bodleh (23) MN
Owner Lesley Bennett
Breeder Vicky Hakin Smith
Bodleh was Best Neuter at the ACC show in 1990 and was the first Grand Premier to be sired by a Silver Aby.



Tausert's Ki-O-Kazam (23) M
Owner Morris Sklader
Breeder Lynn Sargant
Kio was one of the first Abys to be imported into Britain, in 1978. His coat colour was outstanding. As Morris was in demand as a Judge, he was unable to show him enough to make Champion. He is pictured here at one of his very rare outings, at the ACC show in 1979.